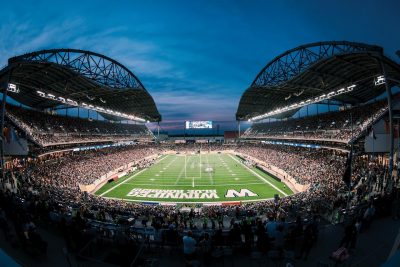 Winnipeg, Manitoba is home to many a sports fan, and it's been a lot of years coming, but Winnipeg finally saw their beloved Blue Bombers play for the CFL Grey Cup. This year's 107th Grey Cup took place in Calgary, Alberta between the Winnipeg Blue Bombers and the Hamilton Tiger-Cats, which a number of Manitoba fans made the trek to go see live in person.
Lucky them!
It was exciting and a lot of fun watching Winnipeg defeat Hamilton, 33–12. This was the Blue Bombers' first Grey Cup victory since 1990, ending one of the longest championship droughts in CFL history.
Aside from the football action, another great highlight of the Grey Cup are the pre-game and half-time shows. This year, we got to enjoy The Beaches, and none other than the great Keith Urban. Keith Urban was definitely a safe bet in making sure the masses would enjoy some amazing music, but it was also fantastic to see relative newcomers The Beaches, which no doubt added some young flare to the event.
The Beaches are a Canadian alternative rock band from Toronto, Ontario consisting of Jordan Miller (lead vocals, bass), Kylie Miller (guitar), Leandra Earl (guitar, keyboards), and Eliza Enman-McDaniel (drums, percussion). Incredibly talented, the girls started learning how to play music just after completing preschool. Taking music lessons at an early age no doubt contributed to laying the ground work to becoming skilled musicians by the time they wanted to start a band! The beaches appeared as the on-field pre-game entertainment before the kick-off, performing two of their most popular releases, the first of which was the song 'Fascination'.
Speaking of which, they definitely were fascinating! A little online digging and I was able to find out that The Beaches will be playing in Winnipeg on Feb 15, 2020 at The Garrick. I'm sure this will be a really cool show!
Keith Urban played the halftime show, and as always, he delivered the goods! The last time Mr. Urban played in Winnipeg was Wednesday, September 19th, 2018, while he was touring his album "Graffiti U". If you love his music, he's even got some music lesson books on Amazon. Guitar lessons at Academy of Music could easily incorporate some of these songs, which helps to keep music lessons fun and engaging!
A lot of musicians, even world-famous ones, come from humble beginnings. As mentioned above, all of the members of The Beaches started taking music lessons at a young age, and even the great Keith Urban was only 6 years old when he started taking guitar lessons. Legend has it that there was a local guitar teacher that wanted to hang up a flyer in his dad's convenience store, and his dad agreed on one condition – if he would give young Keith free guitar lessons in exchange for the advertisement. Not surprisingly, even at such a young age, his son exhibited natural talent on the guitar, and went on to win several talent shows while still attending elementary school.
This goes to show that music lessons can start at any age! Whether you're a young child, in school, an adult or in retirement and have always wanted to learn a certain instrument, you can be rest assured that the Academy of Music has the best options for you, and will make sure you get the best learning experience possible.