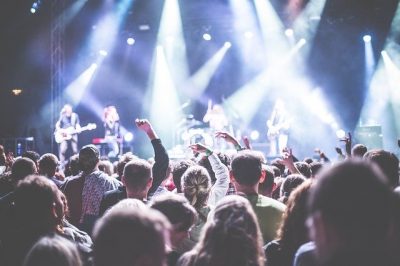 Happy New Year! Not only is it a new year, but it's also a new decade! They say hindsight is 20/20, but we need to keep looking forward 🙂
New Year's resolutions are made every year, and one that we can really get behind is wanting to get out and see more live music. Winnipeg winters are newsworthy around the world, but they are also a great time to get out and be entertained in one of most musical cities in the world.
Here are the top 10 places in Winnipeg to see live music (in no particular order):
1) King's Head Pub
Located at 120 King Street, in the heart of the Exchange District, the building was constructed in 1896 and in August of 1987, the Kings Head Pub first opened its doors to Winnipeg as the first pub in the city.
Every weekend, The King's Head hosts a variety of bands, playing both original and cover songs. It's also right across the street from The Cube in The Exchange District, which during the warmer months always has something entertaining going on. A pint, a patio, and entertainment oh my!
You can visit their website here
2) The Garrick
Calling 330 Garry Street home, the historic Garrick is proud to host a lot of great live acts in the heart of downtown Winnipeg.
The Garrick first opened in 1921 as a movie theatre and now hosts an array of concerts featuring rising local artists and international acts.
Some bands you may have heard of that have played here are Sarah Harmer, Propagandhi, and The Beaches (who also played during the pre-game show at the 107th Grey Cup held in Calgary, Alberta).
You can visit their website here
3) The Pyramid Cabaret
Located at 176 Fort Street, close to iconic Portage and Main, The Pyramid Cabaret has been a mainstay for both local and touring acts since the 1980s. Founded in 1987, it used to be called The Spectrum Cabaret, but changed its name in 1995 to The Pyramid Cabaret.
Some notable acts that have graced its stage are The Watchmen, Sloan and Goo Goo Dolls.
If you've never checked it out, this could be the year you do!
Visit them online here
4) The Good Will Social Club
The Good Will Social Club is a bar, venue, eatery and coffee shop located at 625 Portage Avenue in Winnipeg's West End. It's an excellent place to discover local, national and international music! The venue is nice and open, with a stage large enough for almost any act that plays.
The Good Will also has something going on practically every single day of the week, so there's always something fun to do in downtown Winnipeg!
Check out their calendar here
5) The Handsome Daughter
The Handsome Daughter is a live music venue located at 61 Sherbrook Street in the West Broadway neighbourhood. They host bands and DJs every weekend, stand-up comedy every Thursday, trivia nights, retro video game tournaments, art shows, poetry slams and countless other events.
This is a fantastic little gem that is worthy of an outing!
Check them out here
6) Centennial Concert Hall
For an experience like no other, the Centennial Concert Hall is a first choice. Home of the Royal Winnipeg Ballet, Winnipeg Symphony Orchestra, and Manitoba Opera, this live venue is sure to impress! No matter which event you attend, your eyes and ears will be sure to thank you.
See upcoming events here
7) The Times Change(d) High & Lonesome Club
Located at the corner of Main Street and St. Mary Avenue in the heart of Winnipeg, The High & Lonesome Club runs deep in Winnipeg's veins of musical heritage. If you love the blues, you may just find your second home. If you love Big Dave McLean, you *are* home!
Check them out here
8) West End Cultural Centre (WECC)
You can find The West End at 586 Ellice Avenue in… you guessed it, the West End!
Established in 1987, the WECC is a non-profit, charitable organization that showcases local, national, and international artists. This live venue has a great atmosphere, great people, and even greater talent that graces its stage.
Check out their upcoming shows here
9) The Park Theatre
After 15 years since the doors opened, The Park Theatre has grown into one of Winnipeg's premier live event venues. The building is a renovated movie theatre that first opened in the fall of 1915.
Located at 698 Osborne Street, they offer events ranging from live bands, to "cult classic" movies like The Fly, Sean of The Dead, Monty Python and This Is Spinal Tap.
See their upcoming events here
10) A live music venue list wouldn't be complete without a shout-out to our very own Bell MTS Place located in downtown Winnipeg. Home to our NHL team The Winnipeg Jets, it's seen a lot of musical action over the years, from some of the biggest musical acts on the planet. A few of the big names that have rolled through are:
• Pearl Jam
• Selena Gomez
• Iron Maiden
• The Smashing Pumpkins
• Mötley Crüe
• Cher
There are so many more but this short list just gives an idea of the caliber of live music you can see in Winnipeg!