Piano Sales & Service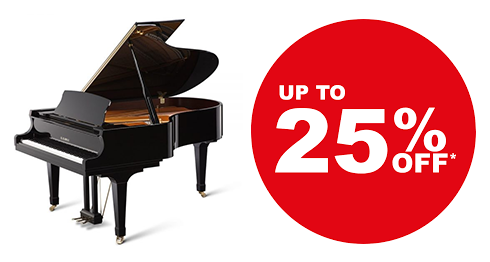 Includes delivery, set up, tuning and warranty! Call us at 1-866-502-0206 or locally in Winnipeg at 204-786-1704 or email our sales manager Doug Mymryk at dougmym@hotmail.ca
ES110 Digital Piano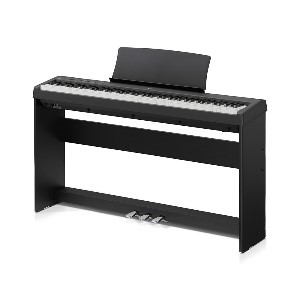 ES110 MSRP $1,149.00

Now

$899.00!
The ES110 digital piano offers the touch and tone of a fine acoustic piano in a lightweight and affordable portable digital piano package. Featuring the Responsive Hammer Compact keyboard with 88 grade-weighted keys and Kawai's unique Harmonic Imaging Sound Technology, the ES110 delivers a realistic and highly-enjoyable musical experience. Additional features such as the built-in lesson function make the ES110 an ideal starter instrument for the beginner.
NEW Kawai ES520

$1,699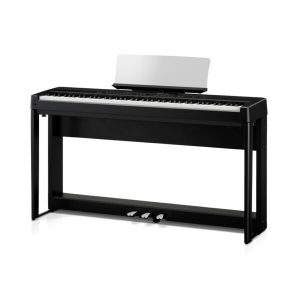 The ES520 boasts some of the finest performance features and technology available in a mid-range instrument and is an excellent introduction to Kawai's line of digital pianos. Wireless connection with Bluetooth MIDI and Audio supports a wide range of apps, including Kawai's PianoRemote, as well as music streamed from a smartphone or tablet. Standard MIDI, USB, and Line In/Out terminals provide for wired connections. A collection of acoustic piano sounds, along with electric pianos, organs, strings, and other instrumental sounds support a wide range of musical styles.
Developed in collaboration with the audio experts at Onkyo, the ES520's powerful stereo speaker system deploys the very latest audio processing and amplification technology for exceptional tonal clarity and richness. Ideally suited for beginning piano players, recreational players, and gigging or studio musicians, the ES520 offers a grand piano-liketouch and tone in an attractive, lightweight design. Add the matching optional HM-5 stand along with the F-302 triple pedal and the ES520 is transformed into a stylish addition to any room in your home.
NEW Casio CDP-S350CS $799.00
88-Key Weighted Hammer Action Digital Piano with Stand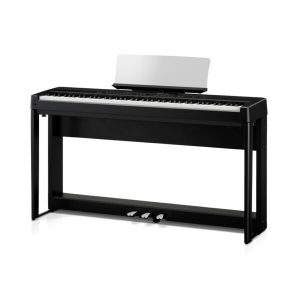 Enjoy a piano-like experience in a compact package with this Casio keyboard. It features 88 hammer-action keys for the realistic response of a traditional grand piano along with 700 built-in tones and 200 rhythms so you can create beautiful music with your own unique sound. It even comes with a matching piano stand and book stand so you have everything you need to get started.
NEW Casio PX-S1000 $799.00
* available in black, white & red
88-Key Weighted Hammer Action Digital Piano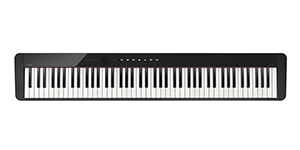 For over 15 years, Privia pianos have delivered a pure piano experience for any situation. Now, the PX-S1000 brings a fresh new design into the Privia family of instruments, making brilliant technology a part of your musical life.
The Perfect Touch
There's never been a keyboard this slim that feels this good. The superior touch of the PX-S1000 is thanks to the newly designed fully weighted Smart Scaled Hammer Action Keyboard which delivers an authentic and uncompromising piano touch with an incredibly compact design. Casio's proprietary key scaling system reproduces the individual characteristics of each of the 88 keys, while ebony and ivory key textures ensure confident playing in any climate.
Piano and Beyond
The PX-S1000 features 18 Tones, including a breathtaking stereo grand piano. String resonance exposes the harmonic relationships between vibrating strings, while damper resonance adds depth and richness. You'll hear the mechanical sounds of dampers rising, keys being pressed, and keys returning to their original position. Hammer response and key-off simulation deliver even greater detail, reacting naturally to your playing dynamics. Along with piano you'll also find lifelike tine and reed electric pianos, organs, strings, vibraphone, harpsichord and more.
Blue Notes
Integrated Bluetooth audio lets you connect your device wirelessly to the PX-S1000, playing your music through its powerful stereo amplification system. Now, instead of just enjoying your favourite music, you can join the band.
The Perfect Fit
Privia pianos are already known for replicating grand piano sound and feel in a compact package, but the PX-S1000 will make you rethink how portable a piano can be. It's 43% smaller than previous generation Privias without compromising its true piano experience. It goes anywhere you need a piano: On a table, on a counter, on a desk, on your bed, the list goes on. Weighing under 25 pounds and with optional 6xAA battery power, the possibilities are endless.
Connect and Create
Download the free Chordana Play for Piano app (on Google Play and the iTunes Store) and customize your PX-S1000 to suit your mood. Change instrument settings, control the MIDI recorder, and learn your favourite MIDI songs with a graphical "piano roll" which grades you on how well you play. View PDF scores, and use the optional SP-34 3-pedal unit (or third-party Bluetooth pedals) to turn pages while playing. The integrated audio player allows independent control over pitch and tempo, and can remove vocals or melody from your audio files.
Features
Stunning piano Tones with damper and string resonance, plus 17 other Tones
Smart Scaled Hammer Action Keyboard with simulated ebony/ivory key textures
Beautifully polished top panel design with illuminated touch sensor controls
Bluetooth audio for playing along with your favourite songs
Designed to work with the free Chordana Play for Piano iOS/Android app
Slim design that weighs less than 25 pounds
Powerful stereo speaker system plus two headphone and two 1/4″ outputs
Optional battery power (AC adapter included)
Class-compliant USB port with no drivers or installation needed
The Academy of Music is pleased to be a dealer of Kawai upright, grand and digital pianos as well as Casio digital pianos and keyboards.
Piano Tuning and Repair Service
The Academy of Music offers service on all acoustic and digital pianos including tuning, regulation and repairs by certified piano technicians. Please contact us for an appointment.