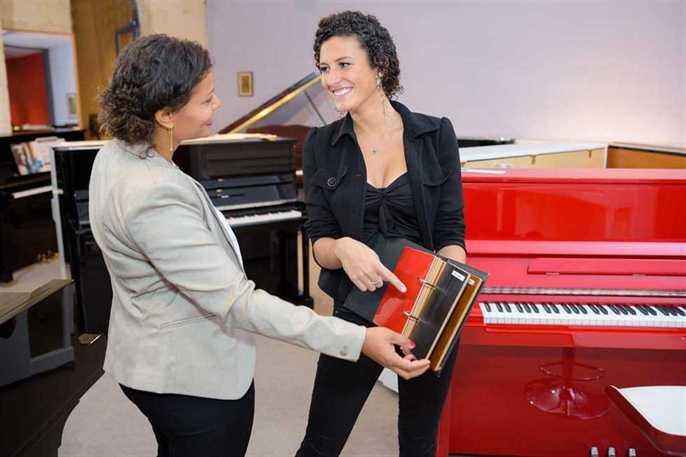 There are many reasons why someone decides to buy a piano. Perhaps you want to start taking lessons and need an instrument of your own to do so. Or, you've been playing for years and decide that it's time for an upgrade. Maybe your child is of age to start piano lessons and you'd like to buy an instrument for them.
In each of these situations, the "right" piano is different for everyone. It takes a good deal of research, some trials, and shopping around before you'll find the instrument you're looking for. To help you hone your search, here are some questions to ask yourself when you're buying a piano:
Which type of piano are you looking for?
There are three main kinds of pianos: acoustic grand pianos, acoustic upright pianos, and digital pianos. Each has advantages and disadvantages, which we'll cover briefly to give you an idea of which model you're looking for:
Grand piano:

These models tend to be the most expensive and take up the most space, but they have an undeniable beauty and elegance about them. The long strings in the horizontal body of the instrument produce notes that are rich and deep. 
Upright piano:

Due to their shape, upright pianos are easier to store. After you depress a key, it's

reset by a string mechanism

, which can create the need for more frequent repairs.  
Digital piano:

One of the biggest advantages of digital pianos is that they don't need tuning. They produce various sounds, so select one that feels the warmest and most natural to you. 
Where was it made?
When you're shopping for a piano in Canada, you need to select one that's suited for our climate; namely, the levels of humidity that we typically experience. Take note of the humidity in your home. Place your piano in a room that's away from direct sunlight, windows, or damp areas. Moisture will affect the wooden components on the piano. When the wood shifts, it impacts the strings and pins within the instrument. A dry location is the best place to keep your tuning consistent. 
What would a professional player think?
If you're just starting out with piano, you may need another opinion on the matter. Do you have friends who specialize in piano tune-ups, repairs, or have years of experience playing? If so, you can ask them to tag along while you shop; offer to pay them a commission for their time. You can even ask your piano teacher for suggestions if you are taking lessons. They will know the right questions to ask store owners about their selection, and they may have a better idea of what's best for you. 
What do the keys feel like?
The keys of the piano have a certain degree of resistance. Be sure to take note of what you prefer. Are you more familiar with soft keys that are like pillows to your fingers? New beginners tend to prefer this type of piano; the cushioning can alleviate strain on the fingers. More experienced players usually opt for weighted keys that take more strength to play. 
What brand is it?
The top players in the piano game are not always the best makes. Yamaha, for example, makes fine instruments, but some are not designed to handle the humidity in Canada. Models from producers like Kawai and Casio have stood the test of time in producing high-quality pianos. 
How big is it?
You don't want to buy a piano that's too big for the space it's designated for. Be sure to measure the room before you start shopping—the last thing you want is to fall in love with an instrument that you can't fit into your house.
Is it new or used?
It's the age-old question: should you get the brand-new model, or select one that's discounted due to its prior use? When it comes to something as expensive as a piano, this question is important to consider. You want to make sure you're investing in the right instrument. 
If you choose to buy used, make sure that the instrument has been tuned regularly. Otherwise, it may require multiple tune-ups so that the strings reach the right tension and settle correctly; if it's been neglected, it may need to be restrung entirely. Make sure to ask how old it is. The factory warranty may have expired, which means you'll pay more for repairs than you would with a new piano. You may need to tune it more often and refinish scuffs or dents. 
How does it sound?
Each piano has a slightly different tone. Some are clear and bright, while others are softer and more mellow. Shop around for different pianos and try them out to see which one has the tone that you like the most. 
What does it cost?
The final question when it comes to buying a piano: what are you willing to pay for it? Grand pianos tend to be the most expensive; with upright models, you'll find some savings, but you may need to maintain the strings that experience wear and tear. 
To find a great piano, you must be prepared to pay some money for it. Think of how often you'll be using this instrument: it will be played during lessons, to learn your favourite songs, to entertain guests, and to unwind after a long day. Settle on a budget that you're comfortable with and start shopping around. If you find an instrument you like, ask the store what they offer in terms of delivery, warranties, and tune-ups. 
Need a piano? Academy of Music has a great selection of grand, upright, and digital pianos. We include delivery, warranty, and tuning; we'll even set it up for you! Give us a call to learn more about our wide selection of pianos.