Music Lessons in Winnipeg, Manitoba.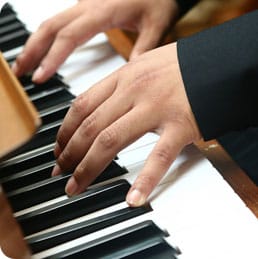 Learning an instrument is an incredible journey. You'll grow so much in body, mind, and spirit – the benefits of being able to play an instrument or sing are almost impossible to list.
We're here to help guide you on that journey. We have lessons for several different instruments, and our instructors are dedicated to helping you learn at your own pace. We offer personalized, one-on-one lessons. That includes in-home lessons and distance lessons. Our distance lessons are conducted over the Internet. All you need to do is grab your instrument, set up a webcam, and schedule a time – our instructors will handle the rest.
Here at Academy of Music, we truly believe in the life-changing power of learning a musical instrument. You'll become more creative, more emotionally open, more intelligent, and more dexterous. You'll feel the calm joy that comes with mastering something of beauty. You'll know the incredible feeling that comes with learning a song you love. You'll play pieces that move you – and pieces that move others.
Our instructors are all passionate about music. They're highly trained and respected musicians in their own right, and if you know anything about musicians, it's that we
love
to play music, and teach others to play it, too. After all, the more musicians there are in the world, the more people we have to play with – and the more great music gets made! 
Music Lessons for All Ages
Learning is a lifelong process, and music is no exception. We offer courses for all ages and all levels of experience. Whether you've never picked up an instrument in your life or you're a seasoned pro, we'll help you develop your skills.

We offer a number of structured programs that are designed to help you learn effectively. These programs combine music theory, practical lessons, songs, and more. Each lesson builds organically on the last, and you'll be amazed at how fulfilling it is to steadily grow in your practice. Best of all, these lessons are fun, and many of them are designed so that players learning different instruments learn the same songs at the same time – you can make a full band!

Our lessons include courses like Alfred's Premier, Hal Leonard's Fast Track, and Royal Music Conservatory lessons. If these courses don't work for you, that's okay – our experienced instructors are more than happy to customize a lesson plan that suits your needs.
Why Get Private Music Lessons?
There are so many ways of learning music today, from tutorials on YouTube to group classes. Why choose private music lessons? Because they're tailor-made for you.


A YouTube video can't give you pointers on subtle improvements you can make to your technique. A group class won't personalize the songs you learn to your tastes and desired playing style. Private lessons mean personalized care, whether you're struggling to learn a particular element of music theory or wanting to branch out into a particular genre. No matter where your studies take you, private lessons are there for you. Your teacher will be a guide, helping you navigate roads less travelled on your musical journey.


Neil Young learned his first chords from his brother, then learned more techniques from his uncle. Randy Bachman was taught by Lenny Breau, who in turn had learned to play from his parents. Chantal Kreviazuk begged her parents for private lessons when she was young – we'd say that turned out very well.


So many Winnipeg legends got their start because they had teachers who believed in them, inspired them, and showed them the ropes – will you or your child be the next star?
Piano Lessons
The piano is found everywhere within Western music. Its layout makes it a composer's dream, and the music it makes can take you from the lowest of lows to the highest of highs. Whether you opt for Alfred's Premier Courses or you're looking to ace Royal Conservatory exams, our instructors will be with you every step of the way. From chords and scales to classical music and pop songs, you'll learn all of the different elements of the piano, all while learning music theory. 
Interested?
Click here for more information on piano lessons in Winnipeg
. 
Guitar Lessons
Whether you're looking to strum old folk and country tunes or shred like Van Halen, we've got guitar lessons for you. From Hal Leonard's Fast Track, and Alfred's Guitar to Royal Conservatory courses, we have courses for all ages. You'll learn rhythm and lead, bends and slides, music theory and finger picking. The guitar can be tuned in hundreds of different ways, so don't fret too much if you can't reach certain frets; your fingers will get stronger, and tunings can be modified so you can play all kinds of different chords. Just ask Joni Mitchell!
Interested?
Click here for more information on guitar lessons in Winnipeg
.
Drum Lessons
We feel rhythm down to our bones, and it's possible no instrument embodies rhythm as thoroughly as the drum kit. Whether you take the Hal Leonard course or ask us to customize a course to suit your particular needs, you'll be playing percussion in no time – and with great timing. Jazz, rock, funk, whatever – you name the genre, and you can learn to play it. From the rudiments of keeping time, and practical skills to music theory, you'll learn it all. Drumming is great exercise, too – for your body
and
your mind. 
Interested?
Click here for more information on drum lessons in Winnipeg
. 
Voice Lessons
Everyone sings, whether it's in the shower or on stage in front of thousands. The human voice is one of the most beautiful instruments, and we'll help you hone yours. A lot of people don't realize how much technical expertise goes into voice training, how much music theory you should learn, or the different ways you can develop your voice. Whether you're a bass or a soprano, whether you want to sing rock operas or traditional operas, we'll customize voice lessons for your needs.
Interested?
Click here for more information on voice lessons in Winnipeg
. 
Violin Lessons
Whether you want to learn classical concertos or to fiddle like they do at Festival du Voyageur, we have violin lessons for you. We're particularly proud to teach the Suzuki Method, which emphasizes ear training and is as much a life philosophy as it is a violin course. From the double stops, drones, and vibrato you'll learn on the left hand, to playing legato, tremolo or martelé with the right, you'll learn music theory, technique, and a whole lot more. The violin is an incredibly versatile instrument, and the bow and strings combination means you can play it in an astonishing number of different ways.
Interested?
Click here for more information on violin lessons in Winnipeg
.
Ukulele Lessons
Ukulele: fun to say, fun to play! This instrument's small size makes it incredibly portable, making it perfect for impromptu sessions with friends. Its small size also makes it perfect for people with smaller hands or joint problems. What's more, the ukulele can be incredibly uplifting and deeply moving – just listen to tracks by Israel Kamakawiwo'ole or Jake Shimabukuro. You can play music from all kinds of different genres on the uke, whether it's new interpretations of classical music or popular uke songs.
Interested?
Click here for more information on ukulele lessons in Winnipeg
. 
From the North End to Sage Creek, Winnipeg is full of incredible and soon-to-be incredible musicians. We're a city with a diverse, unique culture, a city whose story deserves to be told in music. Call today – become a part of our musical tradition.