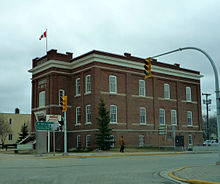 The Academy of Music now offers Online Lessons in The Pas, Mb. The Academy of Music has been offering quality in home music lessons at reasonable tuition rates for over 30 years starting in Winnipeg in 1990. We now offer online instruction via Skype, FaceTime or Zoom in The Pas Manitoba on the piano, guitar, voice, violin, drums, ukulele, flute, saxophone, clarinet, trumpet, trombone, oboe, bassoon, euphonium, tuba, French horn, viola, cello, double bass and electric bass lessons!
It is our mission to offer the highest quality, enjoyable musical education and to make them convenient and affordable for everyone! We have found many benefits to learning on-line as most of our students have switched to online learning. Please visit our on-line lessons section for more information.
The Pas has a more storied musical history than you might expect. A few celebrated Canadian artists are from town, including Pat Carey of the Downchild Blues Band, and Holly McNarland. While UCN doesn't offer a Bachelor in Music as of yet, we might expect them to soon enough – just check out a few Home Routes concerts to get an idea of how deep The Pas' musical lineage really goes!
Of course, concerts have been difficult to attend this year – barring some lovely sets musicians have put on via Zoom. A lot of us are cooped up inside, looking for new hobbies to pursue, and new ways of creating connection and joy. If we may venture a suggestion – why not take music lessons?
Music Lessons
Learning an instrument, taking voice training – music lessons can dramatically improve, not just your ability to play, but your whole life.
Music, in our view, is all about connection. It's been with us since prehistoric times, and you can find it in every culture – it's as natural to us as breathing. There's no such thing as a person who isn't musical – there are just people who haven't found their instrument yet, or had the proper training. We can teach you.
We could, of course, go on about all the ways music will tangibly help you grow. You'll become more dexterous. You'll learn focus, and feel the joy that comes from mastering a piece you found incredibly challenging. You'll train your sense of rhythm, improve your breath control, and increase your self-confidence. Learning music is like learning a new language, so you'll start to think in new ways, and improve your memory and overall cognition.
Perhaps more importantly, though, are the intangible benefits. We've talked about The Pas' musical lineage – you'll be able to connect with that lineage. Connect with others in town. Connect with people around the world, through time and space. You'll be able to stir emotions in yourself, and in other people – joy and sadness at the same time, memories and possibilities.
Our music lessons in The Pas are done virtually, so there's no need to worry about driving to lessons every day. All you need is an Internet connection, a webcam, and your instrument of choice.
Piano Lessons
There's an incredible tune by the artist Sampha called "(No One Knows Me) Like The Piano" – he sings about how the piano knows all of his truest feelings, and how important it was to his development. The piano is a beautiful instrument, perfect for singer-songwriters and other composers. There's a reason it's one of the most important instruments in the history of Western music – we'll teach you all about it, from theory to practice. Whether you're looking to take Royal Conservatory exams or play honky-tonk on a bar piano, we can help.
Guitar Lessons
Imagining the 20th century without the guitar is almost impossible – the dominance of blues, country, and rock in Western music owes a lot to the guitar. Whether you want to learn on a classical, playing old flamenco tunes, or you're looking for something a bit more modern (Djent, perhaps?) – we've got courses for you. Royal Conservatory training, custom lessons – whatever suits your needs, our passionate instructors are happy to provide.
Drum Lessons, Vocal Lessons, and More
It would be impossible to list every instrument we can teach you here – that's why we have that Instruments tab up top. Want to learn to be the backbone of the band and keep people dancing? We've got drum lessons. Want to improve your vocals, whether it's to join the opera or to kill it on Karaoke Tuesdays? We've got vocal lessons. Want to follow in Pat Carey's footsteps? We've got sax lessons.